SULAWESI DIVE TREK
CAVE DIVING
CCR DIVING
TECHNICAL DIVING
EXPLORATION
SEAFARIS
RECREATIONNAL DIVING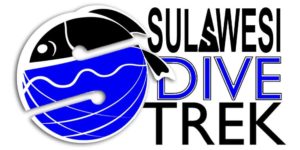 WELCOME TO SULAWESI DIVE TREK
Sulawesi Dive Trek is  situated across the Buton and Wakatobi area, in south-east Sulawesi, Indonesia. This remote region offers one of the best and exclusive diving in the world, in the middle of the coral golden triangle. In addition, it is home to hundreds of caves, most of them still unexplored.
After exploring and surveying more than 150 caves, we are proud to be the first technical diving facility in the region. We are also the first and only dive center in Indonesia to offer the whole range of Cave Diving courses, from Cavern Diver up to Technical Full Cave Diver, Technical diving courses in the amazing reef of Wakatobi and Bau-bau and seafaris combining the best of the two worlds.
For those who want to enjoy the beauty of the ocean and/or the caves in silence, we are an official CCR TRITON instructor facility and we provide everything needed to accommodate CCR divers at every level and every depth.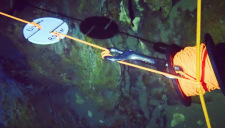 FULL CAVE TRAINING
We are proud to be the first and only active full cave training center in Indonesia.
Come get cave diving certified in Sulawesi Dive Trek and enjoy the underground wonders of Sulawesi Tenggara.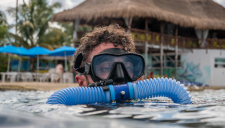 TRITON CCR
Sulawesi and Bali Dive Trek are the only approved TRITON CCR Instructor center.
Rediscover the silent world with a rebreather and enjoy your diving silently and bubble free.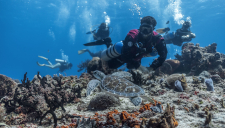 TECHNICAL HEAVEN
Our deep walls are plunging toward the bottom of the ocean and are deeper than you can probably ever dive.
Why don't you come and figure out how deep exactly they go? Dive until hypoxic trimix depth.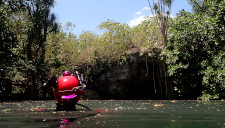 EXPLORATION
We have explored more than 150 caves across the region and hundreds are still waiting to be discovered.
Join us for a once-in-a-lifetime exploration trip and discover the next underground jewel.
MARINE NATIONAL PARK
Wakatobi is one of the oldest indonesian Marine Parks . The reef is protected therefore healthy  and incredibly diverse. In the heart of the biodiversity golden triangle, the archipelago has unlimited depths and almost no other divers around, making it the ideal place for enthusiast recreational and technical divers seeking off-the-beaten path diving destination.
CAVE TRAINING GROUND
The islands of Wakatobi arcuipelago are sitting on limestone and are home to many pristine and crystal clear caves, making it the ideal location for cave diving training. Moreover you will be able to combine ocean and cave diving for a unique diving experience. Be among the first to learn cave diving in Indonesia.
 ADVANCED CAVE DIVING
Baubau and Pulau Buton areas are home to many complex and deep cave systems. It is an ideal playground for cave diving enthusiasts from beginner to multi stage or CCR cave diver.  If you're tired of always going cave diving in the same places, Sulawesi is definitely your next cave holiday destination.
CAVE EXPLORATION
We have been exploring Buton area for the last 3 years and unraveled around 150 caves in the region. "Negeri Seribu Goa", the land of thousands caves is probably one of the biggest concentration of flooded caves in south-east asia and still has hundreds of springs and giant sinkholes to explore. If you're keen on adventure and seek the thrill of exploration join us for the next exploration campaign.