A Closed Circuit Rebreather (CCR) is a breathing machine that removes the carbon dioxide of a user's exhaled breath to allow the re-breathing (recycling) of the substantially unused oxygen content, and unused inert content when present, of each breath. Oxygen is added to replenish the amount metabolised by the user. This differs from an open-circuit breathing apparatus, where the exhaled gas is discharged directly into the environment. The purpose is to extend the breathing endurance of a limited gas supply.
Rebreather technology may be used where breathing gas supply is limited, such as underwater or in space, where the environment is toxic or hypoxic, as in firefighting, mine rescue and high-altitude operations, or where the breathing gas is specially enriched or contains expensive components, such as helium diluent or anaesthetic gases. (Wikipedia)
At Sulawesi Dive Trek we are capable to accommodate CCR Divers to discover the amazing reefs of Wakatobi and Baubau. With amazing depth and untouched corals, your diving experience will be mind-blowing. We are the only CCR Friendly Dive Center in south-east Sulawesi so please contact us if you want to explore our reefs at depth nobody has been before.
We also are an official TRITON CCR Training center, check the Triton page to get more information about it.
Eventually, we also offer CCR Cave Diving guiding for experienced CCR Cave Diver. This requires extensive organisation and logistics , send us an email to arrange a unique trip..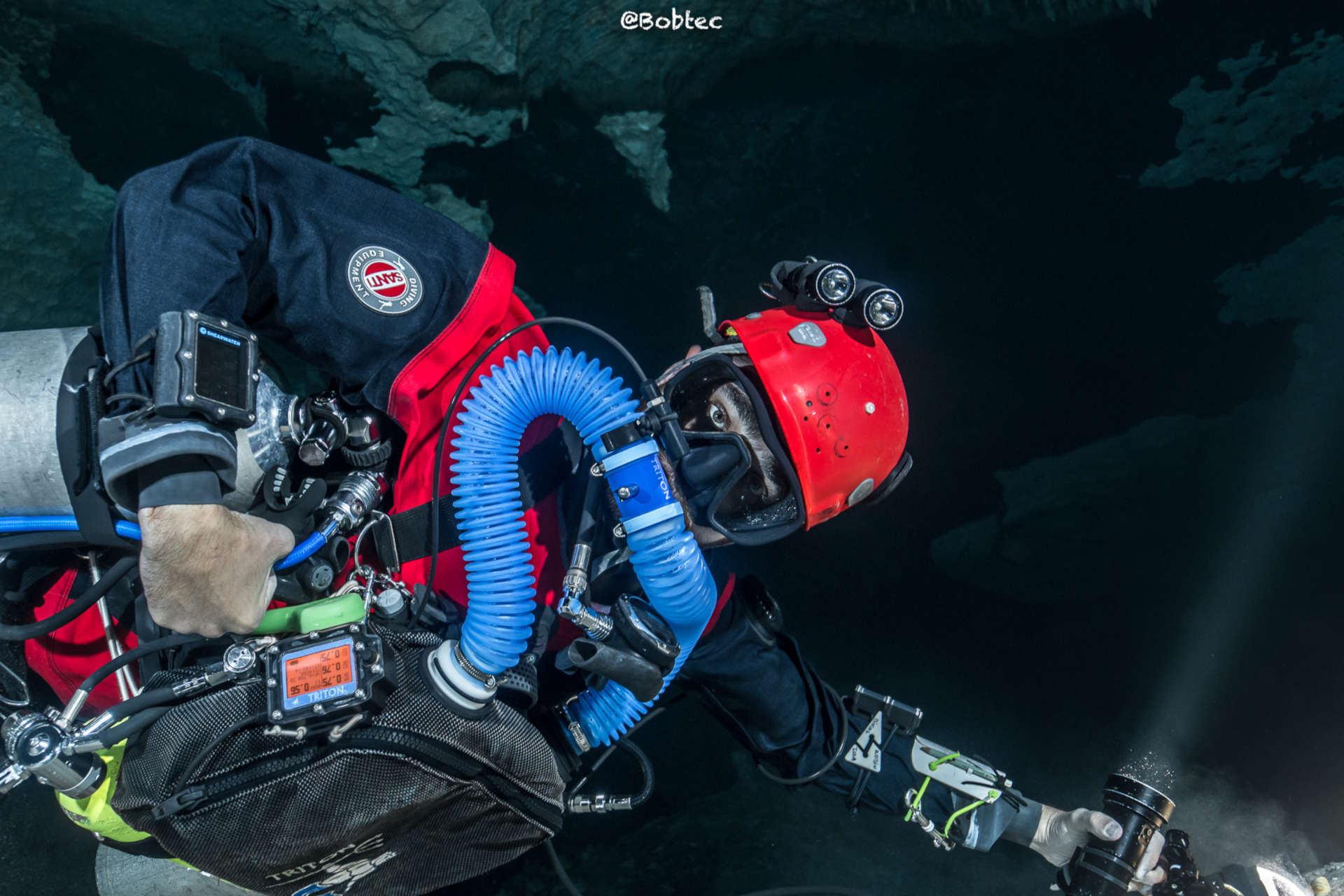 The TRITON CCR is a unique lightweight, compact and efficient Closed circuit Rebreather.  Unlike most of the CCR you can find in the market, the TRITON CCR is a ventral CCR and its capacity of adaptation make it compatible with any diving configuration, from recreationnal single tank diving to heavy stage twinset or sidemount diver, it will fit any of your setup.
Whatever the kind of diving you do, recreationnal, technical or cave diving the triton CCR will help you enter the silent world and seriously extend your bottom time and diving limits.
With a 7 kg weight when packed, it is the perfect tool for people that wants to travel around the world with their rebreather. With a TRITON CCR you will stop worry about excess luggage or worry it get lost during transfer. Its compact format make it compatible to carry-on, so you will never leave your life-support equipment.
This rebreather is developped and fully made in France. He is the only mecanicall CCR approved with CE Standard and can dive up to 100m in 4°c water. It is composed of a ultra resistent Kevlar bag protecting the counterlungs, the electronic and the 2.1kg Carbon Dioxyde Filter canister. The recognizable and famous blue breathing hoses are transparent and made of clear silicone with an anti-bacterial treatment. All plastic parts are made of POM-C and are almost indestructible. The setup of the machine is idiot-proof and very simple to avoid any user mistake. The 1.5L oxygen tank is directly attached to the CCR and 3 cells are constantly monitoring the Pp02 that is readable by the fitted Pp02 Display and HUD. An optionnal PETREL 2 or NERD 2 sheawater computer can be attached to the CCR.
If you want to know more about the TRITON, learn to dive it and purchase a unit, please contact us.
Sulawesi Dive Trek is operating all over South-East Sulawesi. In all our locations we offer :
Oxygen clean S40 and S80 Tanks for Diluent and Bailout.
Several size CCR Tanks (Please contact us for availability).
Haskel Booster On-site., serviced regularly.
Clean Air air compressor.
Air Filters.
Intersorb or Sofnolime, depending on availability.
Medical-grade Oxygen.
UHP Helium.
Hyperbaric chamber available in Wakatobi.
TRITON CCR COURSES
Never tried Cave Diving or want to improve your skill and level and upgrade your certification ? Consult our offer of cave diving courses with the first Technical Cave Diving Center of Indonesia.
Click Here
CCR DIVERS GUIDING
You are already certified in Cave Diving and just want to dive in any of our location with one of our certified cave dive guide ?
Click Here